Hello there. I'm new to these forums, yet I've been lurking around for quite some time now, finally decided to join. Anyways, I've been working on a project in RCT2 for a bit, basically taking the SFoT scenario and changing it around a bit, making the park how I'd like it to be. Just adding/removing rides, retheming many, stuff like that. It's not meant to be a recreation, so some things are just totally out there, yet are meant to be realistic, so imo SF could have actually done this, so don't expect anything too out there..
I don't have too much complete, but there are two screens; one of an updated ride, and one of something totally new.
Here's the new entrance to Titan, complete with Goliath-esque theming.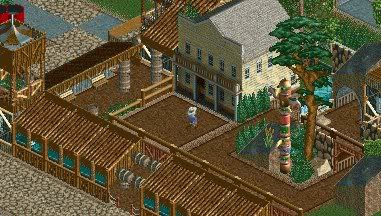 Here's an addition to Boomtown, entitled, "Bugs Bunny Presents.."
The show premiers daily, featuring all of your favorite Looney Tunes characters. Yes, Looney Tunes, USA is no more. Many of the attractions still exist, but in new forms/locations.
enjoy and please comment/critique.